Ketchikan Cruise Ship Fishing Charters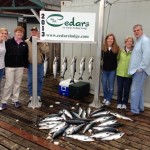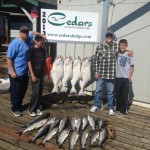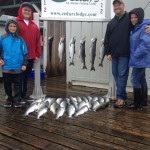 Our cruise ship fishing charters are designed to give you the maximum amount of fishing time while you are in port.  We meet you as you depart the ship, walk down to the charter boat, and head to the fishing grounds.  This means no bus, van, or taxi rides or waiting for the big groups from the ship to gather.  It all translates to more time on the water and more fishing time for your group.  We only book PRIVATE fishing charters for your group and don't have to wait for others.  A private experience is far better than being walked around in a herd, placed on a boat where conflicting interests may come up, or being bussed for 30 minutes before getting to your charter boat.  We have the ability to take any cruise ship guest on a 4 hour salmon fishing charter, and some ships stay long enough to take an extended 6 hour fishing charter with us.  Halibut fishing or salmon fishing is available on our 6 hour fishing charters.  If your ship is in town for 7 hours or more, a 6 hour Ketchikan fishing charter is available to you.  Some of the ships that are in long enough for this fishing charter are the Disney Wonder, Norwegian Cruise Lines (NCL) Jewel and Pearl, many Princess Cruises ships, many Holland America Lines, and plenty of other ships as well.  Feel free to contact us if you have questions about which fishing charter is right for you.
If you would like a no pressure, "go out and try" fishing trip, our 3 hour fishing charter is a great place to start.  Unlike our other trips, this fishing charter is based on dock to dock time.  A great one for families with children, or those that would like to spend some time in town, this charter is perfect for pink salmon season.  Mid July through mid August, this fishing charter is quick, inexpensive, and fun.  We will be fishing very close to town, and still have an excellent chance at catching fish for your group to send home.
Our 4 hour fishing charter is the most popular salmon fishing charter for those arriving by cruise ship.  Most fishing will be done close to town, but this trip allows for a reasonable running range depending on where the best fishing has been.   This fishing charter allows us to target any species of salmon depending on the season.   Booking with one of the fastest boats in town has it's advantages.  We have the ability to extend our range in order to target fish that most of the fleet cannot.   Many times, especially during king salmon season, we will see very few other boats because of the distance we put between town and ourselves.  This fishing charter is available on any itinerary of any cruise ship arriving in Ketchikan.
Our 6 hour fishing charters are the standard for halibut, but are becoming more and more popular for salmon as well.  Your group will play a more hands-on, active role on this fishing charter.  We will have the time to run to better fishing grounds, and the time to teach different tactics to your group that others may not experience. This is the minimum charter that we will run for halibut because of the distances that we travel, and this fishing charter is an excellent salmon charter if your group has the time as well!