The Fish
The Fish We Catch
Here is a glimpse of the fish we typically catch in and around Ketchikan
Ketchikan Salmon Fishing
All 5 species of salmon come to the waters of Ketchikan. From May through September, salmon are very available. May and June are stellar for Kings, Early July comes our Pinks and Cohos, and they continue through the summer. Chums and Reds are there as well, but being plankton feeders, they are harder to target. Salmon fishing typically has a lot of action, so get your sleep before your trip with us!
Ketchikan Halibut Fishing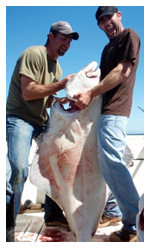 Halibut are the largest of Alaska's sport fish growing to over 400lbs. Most caught on sport gear fall between 15-100lbs. They are mostly muscle and therefore are the strongest fighting. It takes a strong arm to bring a "barn door" off the bottom and even the "chickens" are a solid wrestling match.
Southeast Alaska Rockfish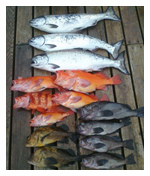 Rockfish come in many different shapes and sizes. From black to bright orange to stripes, we have them all. Many people refer to them as sea bass or snapper. Rockfish are aggressive and typically very available to catch. The Yelloweye Rockfish grows to be over 100 years old. Most of the rockfish make a great meal.